Mondays
9:30-10:30 am • Restorative  - with Kat
6-7 pm • Gentle Warrior Flow - with Rose 
7:45-8:45 pm • Sober Yogi Hour - with Jen M. & Jen L. in rotation
Tuesdays
9:30-10:30 am • Beginners - with Anita
6-7 pm • Fierce Warrior + Heat - with Kat
7:30-8:30 pm • Gentle Warrior - with Jen Len

Wednesdays
11am-12:15pm • Deep Stretch - with Jim
6-7 pm • Fierce Warrior Flow - with Rose
7:30-8:30 pm • Soulful Warrior Flow - with Andrea
Thursdays
9:30-10:30 am • Beginners - with Anita
6-7 pm • Gentle Warrior - with Carrie
7:30-8:30 pm • Fierce Warrior + Heat - with Kat
Fridays
9:30-10:30 am • Soulful Warrior Flow - with Kat
Saturdays
9-10 am • Fierce Warrior Flow - with Rose
*Join us after class forYogi Community Coffee & Tea.
11 am-12 noon • Absolute Beginners - with Carrie
Sundays
9:30 am • Soulful Warrior Flow  - with Kat
11 am • Foundational Flow  - with Steph
7:30-8:45pm • Roots of Recovery Candlelight Yoga and Gong Meditation (75 min.) - with Jen
Class Descriptions
LEVEL 1 - BEGINNER • No experience required!
LEVEL 2 - INTERMEDIATE • Basic knowledge of postures recommended.
LEVEL 3 - ADVANCED • Ten or more foundational classes before moving to Level 3 suggested.
Beginners
Level 1
A class designed for beginners. Students will gain confidence and feel comfortable cultivating their very own yoga practice through learning basic yoga poses and how to use props to support their practice.
Tuesdays • 9:30 am
Thursdays • 9:30 am
Saturdays • 11 am
Foundational Flow
Levels 1, 2, 3
A basic flow class focusing on building a foundation of poses with proper alignment. This class is for all levels - remember, even the teacher is still a student!
Sundays • 11 am
Soulful Warrior Flow
Levels 2, 3
A Vinyasa-based sequence to build core strength, balance and flexibility. Students will enjoy a solid workout, with focus on linking conscious breath to a vigorous movement.
Sundays • 9:30 am
Wednesdays • 7:30 pm
Fridays • 9:30 am

Fierce Warrior Flow
Level 2, 3
An intense Vinyasa-based power class. Students can expect a great cardiovascular and strength-building workout combined with breath work.
Tuesdays • 7:30 pm
Wednesdays • 6 pm
Saturdays • 9 am
Join us after Saturday's class for Yogi Community Coffee & Tea.
Fierce Warrior + Heat
Level 3
This is our Fierce Warrior class - plus heat! Students should bring a towel and come prepared to sweat! Complimentary water is always in the fridge.
Tuesdays • 6 pm
Thursdays • 7:30 pm
Gentle Warrior
Level 1, 2, 3
A slower paced class; beginning with gentle flow, moving into yin postures. Yin targets the deepest tissues of the body: the connective tissues, ligaments, joints, bones and the deep fascia network of the body rather than the muscles.
Mondays • 6 pm
Tuesdays • 7:30 pm
Thursdays • 6 pm
Restorative
Level 1, 2, 3
Reset and wring out your weekend with this all levels, therapeutic, meditative class. This practice is designed to restore the central nervous system and help release deeply held tensions from the body and mind. We use props to support the postures while gently stretching and strengthening the body. Great for an anxious mind.
Mondays • 9:30 am
Recovery Classes
Level 1, 2, 3
Gentle, compassionate, all level classes based on linking yoga with the 12 steps of recovery.
Fridays • 7 pm
Sundays • 7:30 pm
Deep Stretch
Level 1, 2, 3
Deep Stretch offers a blend of Yin and Restorative Yoga to lengthen muscles, strengthen joints and develop the mental discipline to remain focused and relatively calm in challenging situations.  A great way to balance your vinyasa practice with a time and place to relax and release.
(75 minutes)
Wednesdays • 11am-12:15pm
Starting November 15th
Addiction & Recovery Classes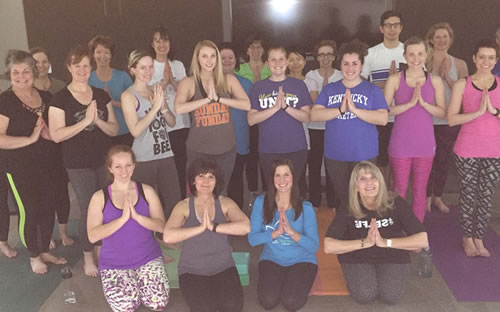 We can still bring the YOGA to you!
For the business owner, HR person or company CEO, one of the most fun and easy ways to inspire and motivate your employees is to offer yoga classes at the office on a regular basis. Yoga classes are a low cost solution for companies wanting to reduce health care expenses, relieve workplace stress and promote employee well-being... And research shows that healthy employees are more productive and cost effective.  Contact Rose to learn how easy it is to bring yoga to your office.
Class Prices